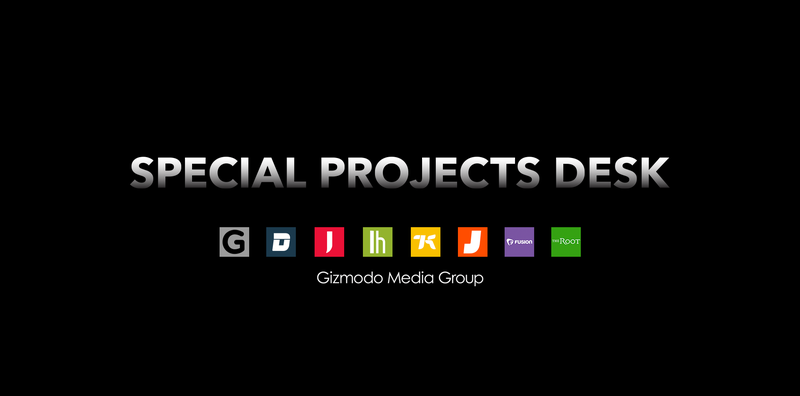 The Special Projects Desk is the digital investigative unit of Gizmodo Media Group, which includes Deadspin, Splinter, Gizmodo, Jalopnik, Jezebel, Kotaku, Lifehacker, and The Root. Established in 2017, Special Projects—known internally as the Flashlight Team—is dedicated to in-depth reporting on politics, media, entertainment, and technology, with a particular focus on the presidential administration of Donald Trump.

Keep reading, and you will:
• Learn what kind of stories we're looking for;
• Learn how to send tips and stories to Special Projects as securely (and anonymously) as possible;
• Find the names and contact information of our individual reporters and editors.
Our Focus
Special Projects seeks to publish true, thoroughly reported stories that bring power to account. We are especially interested in stories that other outlets and journalists shy away from for fear of disrupting access to politicians, celebrities, or business leaders. Any story that illuminates the inner workings of a major institution—a secretive startup, for example, or a prestigious Hollywood studio—will pique our interest.
The members of Special Projects team have successfully pursued a wide range of investigative stories that exposed the encroachment of Palantir's privatized surveillance, Facebook's creepy privacy violations, the dark inner workings of a popular New York City self-help group, allegations of domestic violence against Fox News' Bill O'Reilly, and the crack scandal that took down the mayor of Toronto. There's a good chance we'll be interested in your story, too.
How to Contact Us
Our main email address is tips@gizmodomedia.com, which is best for sending a quick note. If you want to email us securely, be sure to use an email client enabled with Pretty Good Privacy (PGP) and encrypt your message using our public PGP key, which can be found here.

Our main phone number is 917-999-6143. It is capable of receiving calls and messages on a number of platforms, including iMessage, Signal, WhatsApp, Line, and Allo. You can download our vCard here, or directly message our number through any of the apps listed above.
The easiest and cheapest way to securely contact us is the United States Postal Service, through which you can send letters, documents, thumb drives, tax returns, and DVDs. Our address is:

Gizmodo Media Group
Special Projects Desk
2 West 17th Street
Floor 2
New York, N.Y. 10011
If you wish to remain anonymous, be sure to omit any identifying information, such as a return address, on the parcel itself. And, when you mail the letter or package itself, it's best to use prepackaged stamps and deposit the parcel in a blue post office box or mail drop that isn't located near your office or residence.

Our Staff
Tom Scocca, Deputy Editor
Email: scocca@gizmodomedia.com | PGP Key
Kashmir Hill, Senior Reporter
Email: kashmir.hill@gizmodomedia.com | PGP Key
Anna Merlan, Senior Reporter
Email: anna.merlan@gizmodomedia.com | PGP Key
J.K. Trotter, Senior Reporter
Email: trotter@gizmodomedia.com | PGP Key
Surya Mattu, Data Reporter
Email: surya.mattu@gizmodomedia.com | PGP Key
Brendan O'Connor, Staff Reporter
Email: brendan.oconnor@gizmodomedia.com | PGP Key
---
If you're not sure who to contact, email tips@gizmodomedia.com and we'll direct you to the right person. You can also call or message 917-999-6143 using any of the apps listed above.